A friend of mine is the brilliant mind behind Fleeting Pages, taking over the space left empty when Borders closed up their East Liberty store. Opening May 7 in Pittsburgh!
What it boils down to is a temporary store featuring independent and self-published print materials of all kinds: fiction, non-fiction, books, ebooks, zines, academic, children's, art, handmade, press runs, you name it. On top of that there will be events, seminars, crafting sessions, installations, performances, presentations, classes, and anything else that fits with the theme and is submitted during the open call.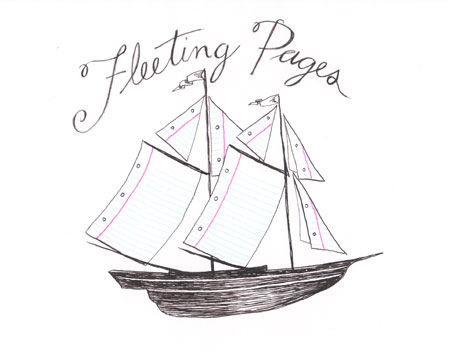 The entirety of the store and events and location and timing means different things to different people. To me, turning a big box bookstore that has closed into a pop-up shop for independent authors and publishers speaks to the transformation of the publishing industry. It's a comment on the irony of the big box store's demise giving rise to the independent book creators and sellers who were pushed out by box stores, a nice little circle.
It is an exciting time for readers because our access to books is evolving, and I have high hopes for a future with a new kind of local book shop. We had local stores that tried to meet the demands for regional areas, they were displaced by big box bookstores who could offer more books and lower prices. Then along came online book stores — outdoing the box stores in volume, selection, and price.
The drawback to the box stores was that the books and the spaces were almost the same in every city, providing no reason to regularly visit them. The weakness of online stores is the same as that of search engines — too much information to make meaningful sense. Sure, you can find a few books that other people who liked the books you've read liked — but how do you browse and discover something completely new?
There is a gap now for curated book selection, and that can be online or local. It's an opportunity for local book sellers to try a new angle, showcasing their expertise and integrating traditionally published and independently published materials side by side to address specific areas of interest.
This pop up emporium is exciting because it brings books to the public that we otherwise wouldn't find in typical box stores or even big online stores. These are the kinds of books you have to root around to find, but now there is a place to go where they have been collected for you. (For a short time at least!)
*art by the magnificent Emilita